Storm Damage Roof Repair Orlando, FL
When a severe weather event hits, it's like a wrecking ball for your property. The last thing you want to deal with is untrustworthy Storm Damage Roof Repair contractors that create added stress and chaos without actually fixing the problem. That's why so many homeowners in Orlando trust Gravity Roofing for Storm Damage Roof Repair in Orlando, FL following a storm. Whether it's hurricanes, tornados, high winds, or hail, their experienced field teams are ready to take charge and handle the repair job quickly and efficiently. That peace of mind can be priceless when you need storm damage repair – the team you can count on is the one at Gravity Roofing in Orlando.
Storm Damage Roofing Contractor Orlando, FL
The stormy weather may have wreaked havoc on your home, leaving you with damaged roofs and siding that are in desperate need of emergency roof repair orlando. Don't despair just yet – Gravity Roofing is here to come to the rescue!  We are one of the most trusted Storm Damage Roofing Contractors in Orlando, FL. We have insurance claim experts ready and willing to take stock of all the damage and fight for your rights when dealing with insurance claims. So when it comes time to get your place looking good as new again, make sure you give us a ring!
Florida may be known for its sunshine, but anyone living in the state can attest to the fact that it also experiences some of the most severe weather of any state in the country. From strong winds and heavy rain to even hurricanes, living here sometimes feels like a roller coaster ride. That's why locals all know that when storm damage roofing problems occur, Gravity Roofing is prepared to step up and help get your home back on track. From taking care of your roof, siding, and exteriors to ensure your property is secure – you won't have to worry about speculating or storm-chasing roofing companies trying to take advantage of a bad situation because we are local storm damage roof repair expert in Orlando, FL who have your best interests at heart.
Types of Storm Damage Roof Repair in Orlando, FL
At Gravity Roofing, we provide storm damage roof repair services in Orlando, FL and the surrounding areas of Florida. We're experts in all types of weather damage, including:
Wind Damage: Strong winds can wreak havoc on your roof, putting your home at risk of extensive damage. Don't let high winds compromise the integrity of your shingles or cause them to detach from your roof. While older roofs are particularly vulnerable to wind damage, improper installation can also make your roof susceptible to gusts of wind. Take action now to safeguard your home from the next storm.
Hail Damage: When the sky unleashes hail, your roof could be in serious trouble. Even if you don't see any visible damage, those sneaky dings and holes left by the icy onslaught could slowly erode your roof's strength over time. Don't underestimate the potential harm –  if left unchecked, those seemingly harmless blemishes could turn into hefty issues after a few storms.
Rain Damage: Don't let rain wreak havoc on your home! Unfortunately, rain damage is one of the most prevalent types of storm damage to your roof. The consequences of neglecting your roof can be dire – from pesky leaks to dangerous mold growth. Save yourself the headache and ensure your roof is in top shape – especially if it's been awhile since it's been serviced.
Snow Damage: The heavy weight of snow on your roof puts strain on your home's structure, leading to cracks and sagging. When the snow melts, it can refreeze, causing ice dams and icicles that block proper drainage and lead to even more damage. Don't let winter wonderland turn into winter havoc – take action to protect your home before the snow starts falling.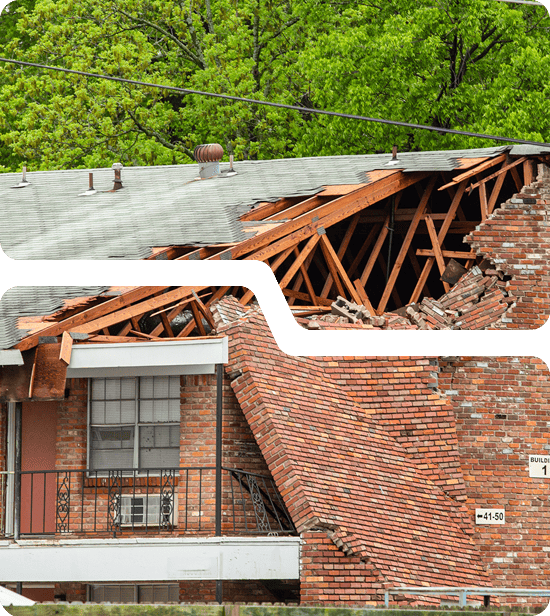 TESTIMONIALS
WHAT OUR CLIENTS SAYS?
Gravity roofing was such a pleasure to work with. They replaced the entire roof and all gutters. They went above and beyond to make sure our roof and accessories were the best quality and condition! We could not have asked for an easier process and great price. Taz and his team are at the top of our list for any future roof needs. Go with gravity roofing, you will not regret it!
Gravity Roofing did a fantastic job and we couldn't be any happier with the results!!
Very responsive. Trustworthy. Didn't just try to replace the roof. Affordable
Great experience! Steve Burns is the man! No BS!
Great communication and etiquette of work Taz did an inspection with pictures and showed us everything labeled to let us know what needed to be done, everything finished in a timely manner and fashion.
I would like to say that Taz is awesome!! He is knowledgeable and does his job well. Taz is very professional. May the Lord continue to bless him abundantly.
Great people to work with. Fast and professional. Answered all my questions. Was able to start and finish the roof with in a couple of weeks from when I signed.
john giangrossi
2023-02-02
I normally don't write reviews, however this one I believe is warranted. I called several roofing companies for estimates and wasn't getting any responses. I called Gravity roofing and spoke to Steve. He squared everything away on the phone and I had an estimate in my hand in no time. If the team that was to replaced my roof was anything like Steve, I wasn't going to be disappointed and I was absolutely right! Gravity Roofing are my guys from here on out without question.
Steve came out and did a thorough inspection of my roof. He was very Knowledgeable and gave me his recommendations. I would highly recommend Gravity Roofing.
Michelle Green
2023-01-17
Taz came to my home asked a few questions and gave me the recommendation on my roof. He took photos and showed me everything I needed to know. When he finished it was recommended I call my insurance company to file a claim as I had damages from the storm. He has also answered questions about the insurance company once they gave me the paperwork. I would recommend him to my family and friends because of his compassion and knowledge.
Gravity Roofing
Storm Damage Roofing Company 
At Gravity Roofing, we understand how unsettling the thought of a big storm hitting your home can be, but you don't have to weather the storm alone! We're here to help you prepare your home and make sure all your bases are covered before disaster even strikes. Our roofing contractors have years of experience and specialize in taking care of all kinds of roof damage repair and restoration services in Orlando, FL. Whether it's high wind, precipitation or intense hurricanes that threaten your property – they've got you covered. There's no better way to get ready for a worst-case scenario than knowing that your home is already fortified against whatever Mother Nature throws at it!